Financial Statements(Balance)
This section presents the dashboard menu. To access it, log in to the back office https://app.cinetpay.com/
---
Overview
This menu allows you to see in real time the account balance by country. Two types of balance (Solde Réel and Solde Disponible) in PayIn and the Transfer Account Balance in PayOut. The balance is displayed according to the selected country. In the menu, you will find the countries as a sub-menu.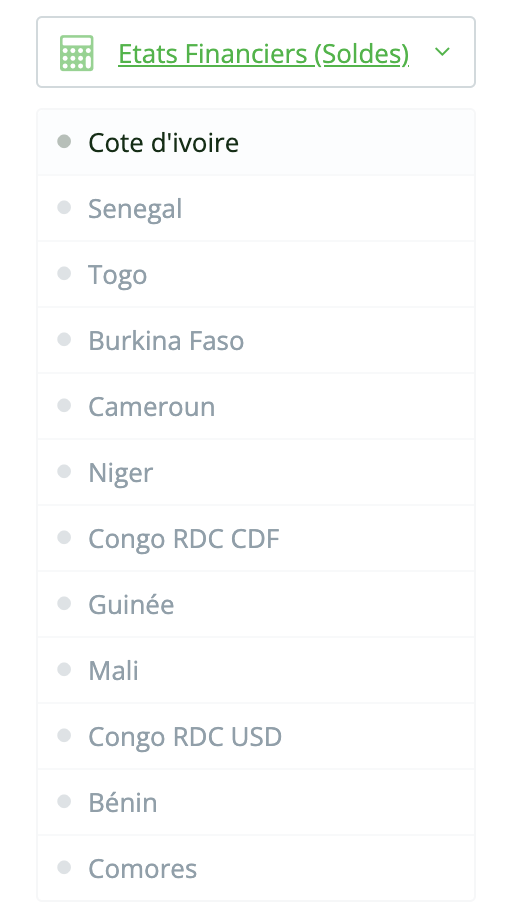 Solde PayIn(PayIn Balance)
After selecting the country, the total balance of your PayIn and PayOut account will be displayed. For PayIn, you will see two balances (Solde Réel & Solde Disponible).
The Solde Réel (Actual Balance) is the total amount collected by each service in that country. The CinetPay commission is already deducted.
The Solde Disponible (Available Balance) is the amount that you can use, either for a withdrawal by bank transfer or to top up your transfer account. The length of time that the amount in the actual balance is transferred to the available balance depends on the withdrawal period. By default, this period is set to eight days (08 days). You can reduce this period by making a request to activations@cinetpay.com
Solde PayOut(PayOut Balance)
The Solde PayOut (PayOut Balance) contains the amount remaining in your money transfer account, this balance is credited by top-ups and debited by money transfer transactions.